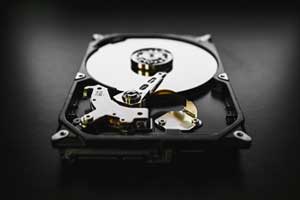 These days, data backup isn't just a convenience – it's a necessity. Whoever you are, whatever your computer usage is, you'll want to have your data backed up.
So what is data backup? It's a safe way of making sure your information stays secure, even if your computer breaks down. It's a way of feeling confident that you won't lose your children's baby pictures, your presentations, or your Excel spreadsheets in a fire. It's also a way to quickly and conveniently move data from one location to another, or to even access your files from home or while travelling.
So how do we do it?
In the past, data was generally backed up on to portable DVDs, which you could then store somewhere safe like a safety deposit box. These days, we have a faster, easier, and cheaper way of doing it – we can securely back up your data on online, using something called the Cloud.
The cloud is used by businesses and individuals around the world for secure data storage. Any information put on there is password protected, so only you or others authorized by you can access it. Here at Same Day Geek, we're serious about computer security and information privacy – we would never suggest an action that would endanger your privacy in any way. Cloud backup won't post your information on-line or share it with any unauthorized parties.
Backup Retrieval
Once you decide to do a data backup, we have two methods. For a professional on the go, there's the ability to quickly and conveniently access all of your uploaded data, wherever you are. Rather than having to worry about computer security and carrying a device with you, you can just log into any machine and access the Cloud using your password. You can also set password protection on folders with different levels of access, so your staff can access some but not all data. Large files can be shared with ease, and information can even be accessed and shared via your smartphone.
If you're not interested in everyday Cloud usage, we can also do a simpler data backup. This is a simple way to store your information securely, where it is accessible for daily use and will be available if you ever have a computer failure.
Having data backup in place is a must for any business, but how the data is backed up is in your hands. If you aren't sure what is best for you, such as maybe using Hosted Exchange Services, just give us a phone call. We always offer free phone advice and would be happy to help you discover the best option for your business.
And for those who have had a computer breakdown without backing up their data, don't panic yet; we do have some methods of data recovery up our sleeves. Give us a call before you get rid of your computer and we'll let you know what we can do.